The Jungle Moons
by Dylan
(Illinois, Wisconsin )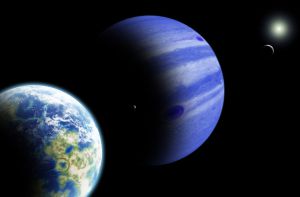 The worlds of the solar system each have their own unique personalities. Some are familiar: Mars is an ancient, dying world of crimson deserts and lost cities, Venus is a wild, mysterious, rain-drenched planet, and Mercury always faces one side to Sun. Other worlds have characters which our tireless webmaster Zendexor and his crew strive to tease out, often with little to work with but scraps and short stories.

But some archetypes aren't confined to single planets. Sometimes, whole regions of space have a character, such as the very edge of the solar system as covered in The Outermost Reaches. Others, or rather one in particular, seems to span multiple worlds. I've noticed that when an OSS protaganist ventures out to one of many moons of the giant planets, he or she is likely to discover that their destination is a lush jungle world. For example, in C.L. Moore's "Yvala", Northwest Smith and his companion Yarol journey to Cembre, an unexplored moon of Jupiter, at the behest of their employers. Once there, they discover,

"They were submerged in jungle. Great serpentine branches and vines like cables looped downward in broken lengths from the shattered trees which had given way at their entrance. It was an animate jungle, full of hungry, reaching things that prang in one wild, prolific tangle from the rich mud. Raw-colored flowers, yards across, turned sucking mouths blindly against the glass here and there, trickles of green juice slavering down the clear surface from their insensate hunger."

The adventure that follows does little to develop the world further, instead focusing on an interdimensional monster. Despite that, the brief descriptions of Cembre the story does provide were vivid enough to stick in my memory and get me wondering at the number of other jungle moons I've encountered during my literary journeys through the OSS.

My catalogue so far includes:

Cembre
-Yvala, C.L. Moore

Ganymede
-The Dancing Girl of Ganymede, Leigh Brackett

Callisto
-Jandar of Callisto, Lin Carter
-The Callistan Menace, Isaac Asimov (The moon is stated to be heavily forested, not jungled, but I'm counting it.)

Leda
-Outlaw World, Edward Hamilton

Titania
-Salvage in Space, Jack Williamson.
-Treasure on Thunder Moon, Edward Hamilton

Ariel
-the Magician of Mars, Edward Hamilton

Umbriel
-Revolt on the Tenth World, Edward Hamilton

That's every jungle moon I've been able to find, although I'm sure other voracious, overgrown satellites are out there, waiting for me. If anyone would like to give me directions, I'd be most appreciative!

As is likely evident from my list, this trope owes much of its existance to the prolific Edward Hamilton. However, as I suspect many otherwise neglected worlds are in debt to Hamilton from providing them with personality, I don't really mind.