poetic licence in the old solar system


How far are authors allowed to stray from fact, in the Old Solar System?
Stid:  Not so much a question of "allowed" - you really mean, how far are you able to stray?  How unbelievable can you get before your story-line bombs automatically?  That's the issue.

what's forbidden?
And I can answer it myself - by listing the things you can't get away with:
For starters, you can't mix up actual names or orbits of planets or moons, without losing all credibility.  e.g. you couldn't say Mars is between Mercury and Earth, or that Venus is between Earth and Jupiter. 
Neither can you ignore that Jupiter's gravity is extra strong, or that the Moon's is extra weak.  You can just about put a breathable atmosphere on Mars if you're Edgar Rice Burroughs writing in 1911, but you couldn't, even then, put one on Pluto...
Zendexor:  Not bad, Stid, not bad.  But not good enough.
You've got the glimmerings of the right idea: that poetic licence allows us a long but not infinite leash; it permits us to play around as far as the boundaries of the most basic knowledge of the Solar System, but not to jump that final fence.  I discuss this point on our asteroids page.
Agreed, then: you can't transgress the basics...  But how helpful is this rule?  Is it a rule?  Are there exceptions?  Unfortunately for your tidy mind, Stid, the answer to that last question is yes!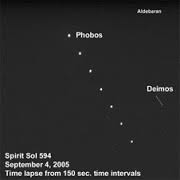 Take the examples you've given.  You say you can't mix orbits up?  Oh yes you can!
...At this moment, Deimos burst above the western horizon with theatrically spectacular effect.  The brilliant rays of the nearer moon illuminated the whole scene.  [The Lost Treasure of Mars]

You see - if one of my favourite authors can get Phobos and Deimos confused -

Stid:  Ah, come on, that was just one of Hamilton's off moments.  Not a real deliberate stretching of the bounds of fact!  Just a mental blip.

Zendexor:  Well, what about when the orbits of the planets themselves are altered in A World Out of Time -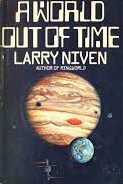 Stid:  That won't wash either.  It's a far-future tale in which the orbits have been altered deliberately by super-technology.  Not a careless disregard of fact.  I must say, Zendexor, the examples you've so far chosen are getting us nowhere...

Harlei:  He's just testing you, Stid.  Wait for the hammer blow...

Zendexor:  Two blows, actually.  You say one couldn't put a breathable atmosphere on Pluto, but Captain Future can breathe there, quite easily!  He needs to put a fur coat on, because it's chilly out there at the edge of the Solar System, but -

Stid:  All right, all right, I'll grant you Captain Future - all the worlds of the System are habitable in that alternate or parallel reality.  So what's left of the examples I cited?  Gravity, I suppose... yes, you can't ignore the Moon's low gravity without wrecking any story that involves the Moon.

Zendexor:  Normally I would agree with you, but there exists a very significant exception.
a record-breaking suspension of disbelief
The exception is - The Moon Men.

Stid: That one's set on Earth.

Zendexor:  But on an Earth which has been conquered by men from the Moon.  And they seem to have no trouble here.  No difficulty in walking about on a world with six times the gravity that they were used to.  Now, is this not ridiculous?  Wouldn't you say that an oversight of this magnitude ought to render the story valueless?
And yet - The Moon Men is a great book, one of ERB's best.  Much more sombre than most of his tales; weighty, serious, tragic - while yet a good readable yarn.

Stid:  Well, I don't know what to say.  I'm no longer sure where this discussion is supposed to be heading.  Are we still saying there are boundaries - or are we saying no, there aren't any, after all?

it's all right for some
Zendexor:  I am working up to the following conclusion: yes there are boundaries but the boundaries are different for different authors.
Burroughs is, I think, the only writer who could have got away with ignoring the gravity problem for a Lunarian immigrant to Earth.
He gets away with it because of the qualities of his book.  It's a case of virtues outweighing faults.
Whereas (for example) E R Eddison certainly does not get away with giving Mercury an Earth-like character and even a moon, in The Worm Ouroboros.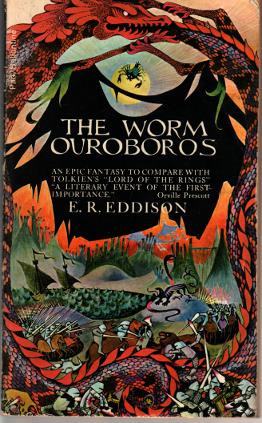 Harlei:  Hey, don't condemn The Worm Ouroboros - it's a corker.  Ripping yarn, gorgeous style.

Zendexor:  I know, but the supposed Mercury-ness of the story does not survive the first few pages.  That's my point.  You can't write about Mercury like that and expect the reader to bother to suspend disbelief sufficiently to take the Mercury aspect seriously.  Whereas -
Burroughs does succeed in getting the reader to suspend disbelief with regard to the Lunarians' conquest of Earth! 
But how?  What actually goes on when I read The Moon Men?  Let me excavate the processes of my mind.  I dig deep - I bring them to the light - and hey presto:
I find that my excuse-making powers have gone into full gear.
The villain, Orthis, must have done it somehow.  The "arch-villain of the universe".  Burroughs goes into detail about his scientific genius for weaponry, lots of blah blah about a "device for the generation of radio-activity at any desired vibratory rate and for the directing of the resultant emanations upon any given object within its effective range".  Well, that points to the answer to our problem: we need only say that he must have done something to alter the gravitational blah blah as well...  like the turtle-shaped lunarians did in The Other Side of the Moon, if I remember correctly...
The point is, I can read The Moon Men.  So something must have happened to alter my critical faculties.

Harlei:  But, hey, you can read The Worm Ouroboros - I've heard you exclaim how much you like it.

Zendexor:  But not as science fiction, or even science fantasy.  In the science fiction versus fantasy tussle, that book gets claimed for fantasy - no doubt about it.
Whereas The Moon Men stays on the sf side of the line.

Stid:  Well there you are, that's it: it wasn't Orthis with his blah blah, it's ERB with his blah blah, bamboozling you into accepting the impossible.

Zendexor:  So long as it works, I'm happy.
Edgar Rice Burroughs, The Moon Men (1925); E R Eddison, The Worm Ouroboros (1922); Edmond Hamilton, "The Lost Treasure of Mars" (Amazing Stories, August 1940); "The Other Side of the Moon" (Amazing Stories Quarterly, Fall 1929); Larry Niven, A World Out of Time (1976)

For liberties taken with gravity, see the Diary, Poetic Licence among the Asteroids.

Surprisingly stupendous successful suspension of disbelief
Zendexor asks: Calling all readers - from your experience can you report anything to match ERB's Moonmen-happy-with-Earth-gravity, for sheer getting-away-with-it?