Lucky Starr, Space Ranger
by Dylan
(Illinois, Wisconsin)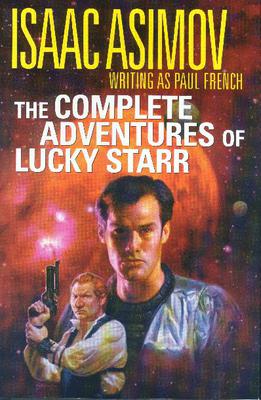 David
While Bradbury's Martian Chronicles was my first OSS read, Isaac Asimov's I,Robot was my doorway into science fiction literature of any kind. I've come to love his dry style and his work holds a special place in my heart- so I was of course thrilled to discover he published a series of young adult OSS books!

Written in the 1950's, Isaac wasn't thrilled when his publisher approached him about writing a "juvenile" book with the intention of adapting it into a television show. He feared it would be like the "uniformly awful" programs on at the time, and so wrote the books under the pseudonym "Paul French". Later collections were published under his name, thankfully.

The series is not unlike Robert Heinlein's Space Cadet, only the adventures don't end after a single book. David "Lucky" Starr is an adventurer for the Council of Science, blasting between planets and solving problems in feats which require both daring due and considerable wit.

Mr. Asimov was ever concerned with scientific accuracy, so we can be grateful he wrote these books when he did. We are left with this list of treasures:

David Starr, Space Ranger (Set on Mars)
Lucky Starr and the Pirates of the Asteroids (The most scientifically accurate of the books today)
Lucky Starr and the Oceans of Venus
Lucky Starr and the Big Sun of Mercury (featuring a tidally locked Mercury!)
Lucky Starr and the Moons of Jupiter
Lucky Starr and the Rings of Saturn

The final two, set around Jupiter and Saturn, I have yet to acquire and read. However, if they are at all like their predecessors, they will be exquisite little romps through the OSS. Lucky Starr can stand proudly beside Captain Future in the world of young adult OSS fiction.