allen m steele's enigmatic mars

by


dylan jeninga



The first part in an analysis of the anthology Old Mars, edited by George R.R. Martin and Gardner Dozois.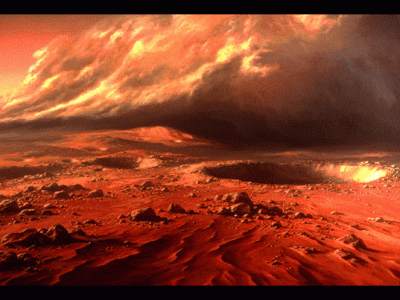 Vision of Mars, by Ludek Pesek
Old Mars and Old Venus, two anthologies I've mentioned many times before, are full of stories that each deserve their own analysis. Such an endeavor would take a fair amount of time, and it might be easier to just do an overall review of each book and get it done all at once… ah, who am I kidding? I know I'm gonna do a write-up for each story, I may as well admit it now and get started.
The introduction to Old Mars, by George R.R. Martin, is a treasure all on it's own. It's a nostalgic recounting of Martin's childhood love of novels set on Mars until the age of probes - and the hopeful notion that it may live yet. I highly recommend reading it, and not skipping it as one may do with other anthology introductions.
That aside, the meat of any anthology is the stories contained within, and Old Mars is a special treat in that regard. Almost every story really captures, in my opinion, the essence of Mars, but none more so than the very first tale: Martian Blood, by Allen M. Steele. It certainly gets the collection started on a high note.
What I like most about this story is its Martians. The plot kicks off when Jim Ramsey, a Mars-born tour guide living in the colony of Rio Zephryia, is hired by Doctor Omar Al-Baz, a xenobiologist from Earth, to take him to see the "aborigines".  But he doesn't only want to meet them - as he explains after Ramsey picks him up from the spaceport, he's really after "The blood of a Martian".
Omar is a xenobiologist, and hopes to prove his theory that men and Martians are distantly related through a process called panspermia. The idea is that microbial life from Mars may have travelled to Earth on a meteorite ejected from a Martian volcano, and to prove it, all the doctor needs is a sample of DNA  from a native to compare with the human genome.
Obtaining such a sample is easier said than done. As Ramsey explains,
"I know. I understand the aborigines are rather reclusive…"
"Now, that's an understatement." I put down my glass again. "They've never wanted much to do with us. The Ares I expedition had been here for almost three weeks before anyone caught sight of them, and another month before there was any significant contact. It took years for us to even learn their language, and things only got worse when we started establishing colonies. Wherever we've gone, the shatan have moved out, packing up everything they owned, even burning their villages so that we couldn't explore their dwellings. They've become nomads since then. No trade, and not much in the way of cultural exchange…"
What's more, Doctor Al-Baz's request carries a fair amount of risk.
"But we've learned their language."
"Just a little of one of their dialects… pidgin shatan, you might call it." I absently ran a finger around the rim of my glass. "If you're counting on me to be your native interpreter… well, don't expect much.  I know enough to get by, and that's about it. I may be able to keep them from chucking a spear at us, but that's all."
He raised an eyebrow. "Are they dangerous?"
"Not so long as you mind your manners. They can be… well, kinda aggressive…. If you cross the line with them." I didn't want to tell him some of the worst stories -  I'd scared off other clients that way - so I tried to reassure him. "I've met some of the local tribesmen, so they know me well enough to let me visit their lands. But I'm not sure how much they trust me."....
Enigmatic, dangerous, demanding respect - these Martians may not have fliers or radium rifles, but they encapsulate the essence of what Mars has always been to me. That distant, unattainable, exquisite world which cares not for us, and may punish the foolish Earthman who sticks his nose into what he does not understand. It's a theme that appears in many Mars stories, such as Ray Bradbury's Martian Chronicles and S. M. Stirling's In the Courts of the Crimson Kings, and to me it rings truest of any theme in any story set on OSS Mars. The red planet, real or fictional, is alien and inscrutable - and assuming otherwise should bear serious consequences.
Not that Doctor Al-Baz is disrespectful. Quite the contrary, he follows Ramsey's advice and displays due respect when he meets the Martian chieftain. Still, even he doesn't really comprehend them, which in the end poses a threat to him, Ramsey, and all of Mars - but I'll not spoil this fantastic yarn.
It's also worth noting that Martian Blood contains a CLUFF: a cute-little-unfulfilled-fragment-of-fascination,  as Zendexor calls them. When describing his career, the doctor explains that he used to work studying the "global ocean" of Venus. Thankfully, unlike most CLUFFs, this one isn't actually unfulfilled, but we'll get to that when I cover the very first story of Old Venus.
Martian Blood is the kind of short story I routinely wish were a novel, or better yet, a series of novels.  Mr. Steele has in fact written a novel set on Mars, Labyrinth of Night, apparently involving Martian ruins, and I intend to acquire it at the first opportunity - but I think we'll all agree that ruins are not quite the same as living, breathing Martians. Perhaps I'll get lucky and he'll stumble across my little blog and take pity on me. Mr. Steele, are you there? One Marsliner ticket, please!