interplanetary Huntress
the gerry carlyle stories
of arthur k barnes


When you read a great and famous author, delight comes without surprise.  But when an obscure writer gives us a book which turns out to be a lot better than expected, the pleasure is laced with the extra tang of astonishment.  This is what we get from the tales of roving Gerry "Catch 'em alive" Carlyle, the huntress in Barnes' series of tales.  Her vocation is to capture exotic alien creatures for the London Interplanetary Zoo, and this theme allows many attractive branchings. 
Gerry herself is a likeable, headstrong character, living on her nerves, very capable, yet vulnerable to the threat of what she cannot afford - namely, defeat.

...This day was to be one of many surprises for Tommy Strike and perhaps the greatest shock of all came when he stood beside the sloping runway leading into the brightly lighted belly of the ship.  For, awaiting him there, one hand outstretched and a cool little smile on her lips, stood the most beautiful girl he had ever seen.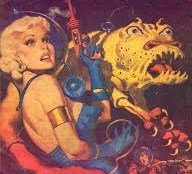 "Mr Strike," said Barrows, "this is Miss Gerry Carlyle."
The trader stared, thunderstruck.  In those days of advanced plastic surgery, feminine beauty wasn't rare but even Strike's unpracticed eye knew that here was the real thing.  No synthetic blonde baby-doll here but a natural beauty untouched by the surgeon's knife - spun-gold hair, intelligence lighting dark eyes, a hint of passion and temper in the curve of the mouth and arch of nostrils...
But Miss Carlyle's voice was an ice-water jet to remind the trader of earthside manners.
"You don't seem enthusiastic over meeting your temporary employer, Mr Strike..."
Stid:  Old-fashioned stereotype here, eh?  Wilful female eventually tamed by male who knows best...
Zendexor:  I'd say, as a matter of fact, that the relationship between hero and heroine is particularly well handled.  In action-adventure you don't want anything too subtle, but let me summarize the writer's achievement in this regard, by saying that we end up by accepting both Tommy Strike and Gerry Carlyle as real people.  The man is quietly competent and content to allow the woman the starring role.  The woman lives on her nerves, under great pressure to succeed in a man's world.

Stid:  A "man's world" - in the interplanetary age?  There you have it.
Zendexor:  You mean, it's stereotypical because it's out of date?  Don't see why the one implies the other.  Even if it did - every period of history generates its own rich crop of stereotypes, and isn't it a relief to take a holiday from ours, once in a while?  But this is a digression.  Actually, stereotypophobes have nothing to fear from this book.  As the two main characters grow to love and respect each other, the reader can share their mutual regard, as well as appreciating with zest the mutual double-crossing of the subsidiary characters, Van Zorn and Quade.

Harlei:  It's fiction, Stid, in case you hadn't noticed.   Pulp-era fiction.  Explain to him what historical context means, Zendexor.

Zendexor:  Yes, well, the stories are old-fashioned, no doubt about that.  Arthur K Barnes wrote them in the late 1930s and early 1940s.  But they still have the power to entertain us with the unexpected originality of their ideas, the fresh vigour of their old-fashioned characters, and above all the inventiveness of their portrayal of alien creatures.
Cross the colour and thought-provoking variety of Weinbaum's interplanetary adventures with the frontier wonderment of Campbell's Penton and Blake saga, and you might get some idea of what awaits you with Barnes' series.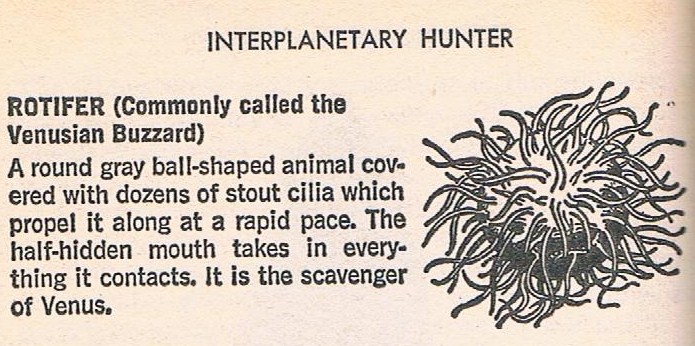 Though I hasten to add that Barnes writes much, much better than Campbell.  Only in the realm of ideas, of pure concepts, may Campbell equal him; but I hesitate even to say this.  And it is Barnes who is by far the better at world-building. 
...She sniffed noting what all newcomers to Venus learn.  Although the view is a drab almost colorless one, an incredible multiplicity of odors assails the nostrils - sweet, sharp, musklike, pungent, spicy, with many unfamiliar olfactory sensations to boot.
Strike explained.  On Earth flowering plants are fertilized by the passage of insects from one bloom to another, they develop petals of vivid colors to attract bees and butterflies and other insects.  But on Venus, where perpetual mist renders impotent any appeal to sight, plants have adapted themselves to appeal to the sense of smell, therefore give off all sorts of enticing odors...

Such passages help promise the reader, that the story will rest upon logical foundations.  So, when the heroine faces a mighty challenge, the reader is reassured that the author won't cheat - that it won't all be fixed by some lazy trick. 
The challenge, in the Venus story, is provided by the 'Murris'.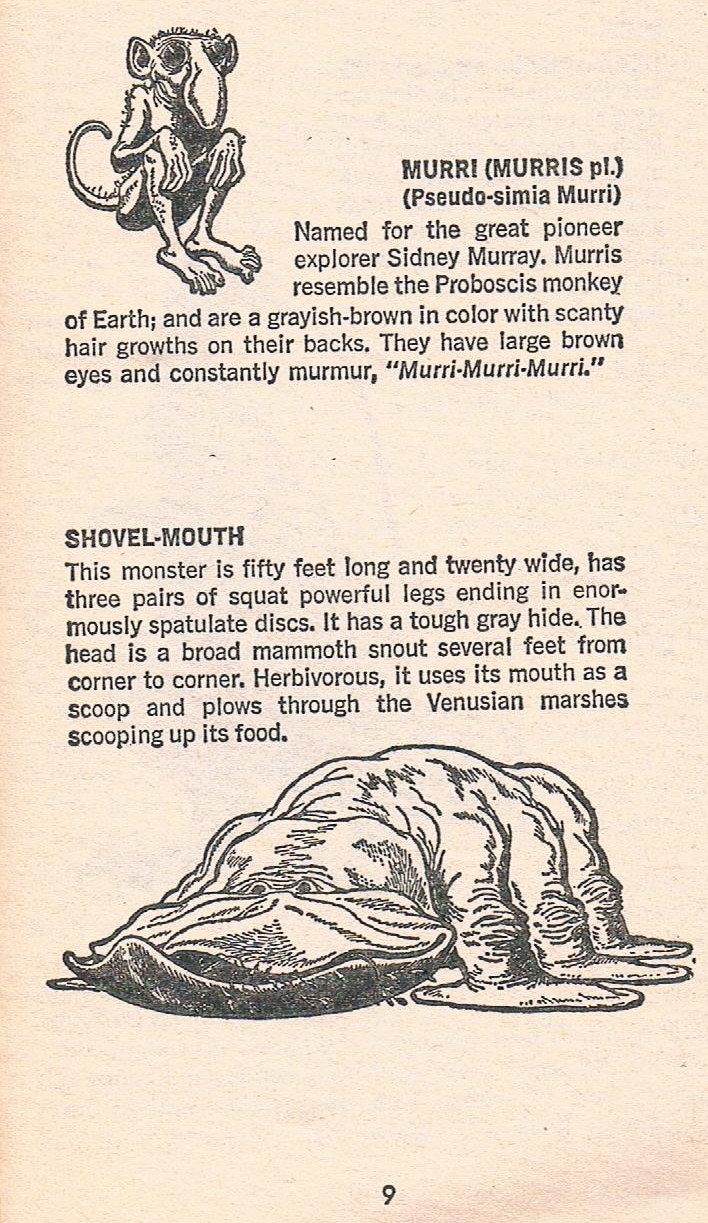 ...Gerry Carlyle's temper flared.
"What is the mystery about this Murri, anyhow?  Everywhere I go, on Venus, back on Earth among members of my own profession, if the word Murri is mentioned everyone scowls and tries to change the subject.  Why?"
No one answered.  The Carlyle party shifted uneasily, their boots making shucking sounds.  Presently Strike offered, "The fact is, you'll never take back a Murri alive.  But you wouldn't believe me if I told you the reason, Miss Carlyle.  I - "
"Why not?  What's the matter with them?  Is their presence fatal to a human in some way?"
"Oh, no."
"Are they so rare or shy they can't be found?"
"No, I think I can find you some before you take off."
"Then are they so delicate they can't stand the trip?  If so, I can tell you we've done everything to make hold number three an exact duplicate of living conditions here."
"No, it isn't that either," the trader sighed.
"Then what is it?" she cried.  "Why all the evasions and secretive looks?..."

I certainly didn't guess the mystery.  This author, in my view, really does deliver the goods.  The stories - all of them - are unpredictable yet always manage to make their own kind of sense.  We're taken to several varied worlds: Venus, Amalthea, Triton, a comet, Saturn and Titan.  Each time we're given a starkly different kind of native life, with biological inventiveness to match that of Stanley G Weinbaum.

Harlei:  Just a moment, Zendexor - you've said some good things about the book but I want you to praise it some more, in a different way.  I'm a bit worried that some prospective readers might get the wrong impression from what you've said so far.  I can imagine some of them thinking: well, maybe the stories are colourful and inventive, but still, they're likely to be a bit repetitive, if each and every one of them is mainly concerned with the heroine capturing some difficult beast...  I mean to say, if that's the only structure the stories have -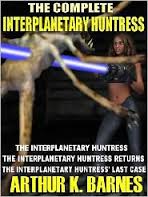 more stuff to come, apparently
Zendexor:  I get the point.  But - no need to worry: Gerry's plans run into plenty of other problems.  It's not just about catching beasts!  There are alien intelligences too.  Not that she is out to ensnare intelligent species, of course, but, unsuspecting, she meets some nonetheless, on Titan and on Almussen's Comet.  Also, the plot can hinge upon hostile action by her human enemies, for she has plenty of trouble from her own species, and these crises mingle with the simultaneous dangers from alien beasts and environments.  Think of what happens on Triton and on Jupiter Five.
Stid:  So, you're giving it all the thumbs-up.

Zendexor:  Look, such tales have the virtues and limitations of frontier adventures.  They won't give you what you get from Burroughs, Hamilton, Brackett, or from Clark Ashton Smith in The Immortals of Mercury and Vulthoom, namely the thrill of wandering among the ancient mysteries of exotic civilizations.  Nevertheless if you follow Gerry and her "Ark" you will get the thrill of discovery, like in Smith's other interplanetary masterpiece, The Immeasurable Horror.  Although one must admit that Barnes is not a match for Smith stylistically, he's still good enough, and his achievement will be appreciated by old-style OSS fans. 
To sum up, this book is much, much better than it looks.  And the Emshwiller illustrations are a delightful bonus.  I have given only the Venus ones on this page; there are many more from the other worlds visited in the stories.

Arthur K Barnes, Interplanetary Huntress (1956).  (Note: at least one edition is chauvinistically mis-titled Interplanetary Hunter.)

See the Amalthea page for the visit to that moon, including a reference to the fearsome Cacus.

See the Triton page for the adventure set on that moon.

Extracts:  Grounded on Titan  -  Shape-shifters on Almussen's Comet.